Zombie Mania: The year of the living dead
LaReeca Rucker
The Clarion-Ledger
This year, Brandi LaShay Wesley was named Zombie Queen of the Mississippi International Film Festival Zombie Ball. The Ridgeland resident and Madison hairstylist is quite the zombie fan. "I dress as a zombie year-round," she said. "Me and some of my friends will just do it for fun and take pictures and post them on social networks.
"As a personal fan of the recent decade worth of quality produced zombie films, as well as the TV show 'The Walking Dead' being a hit, I am excited that Jackson is liberally accepting such a trend for Halloween celebrations throughout the city. It presents a new entertainment edge for the city's growing tourism."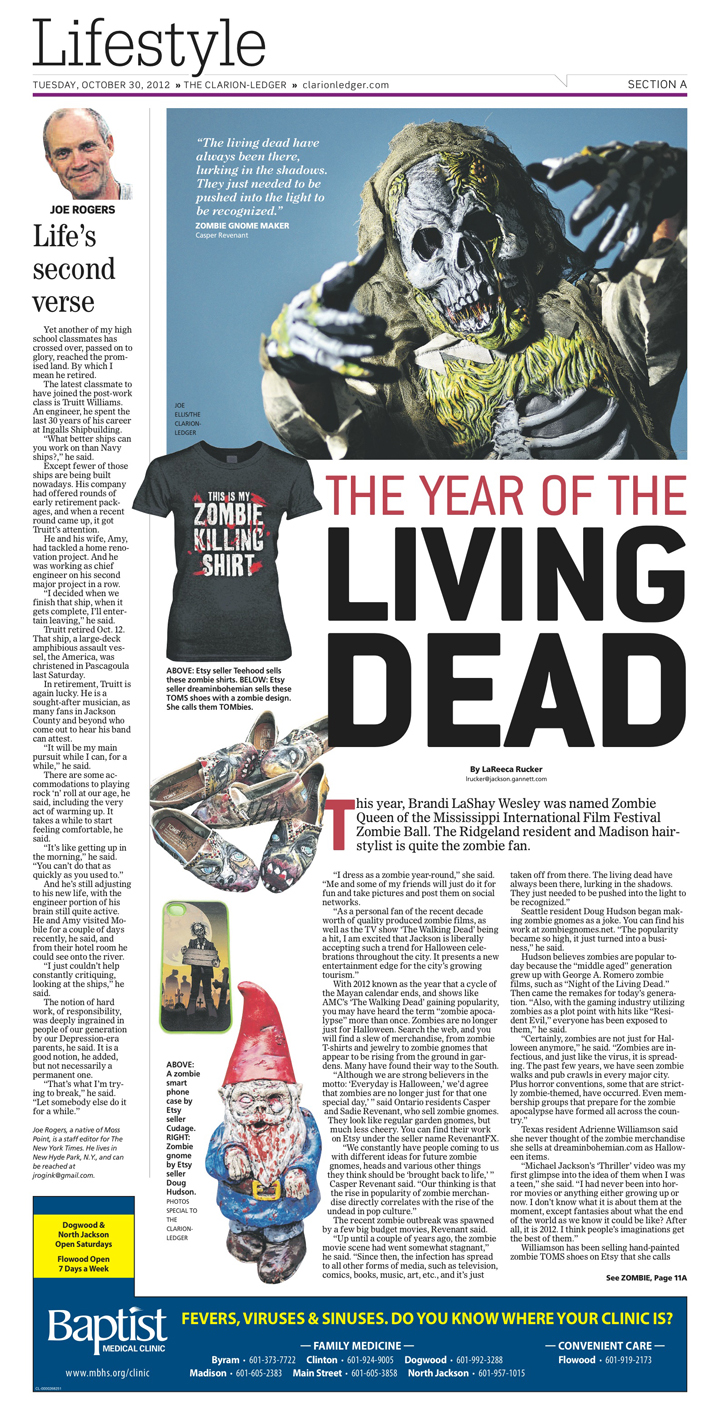 With 2012 known as the year that a cycle of the Mayan calendar ends, and shows like "The Walking Dead" gaining popularity, you may have heard the term "zombie apocalypse" more than once. Zombies are no longer just for Halloween. Search the web, and you will find a slew of merchandise, from zombie T-shirts and jewelry to zombie gnomes that appear to be rising from the ground in gardens. Many have found their way to the South.
"Although we are strong believers in the motto: 'Everyday is Halloween,' we'd agree that zombies are no longer just for that one special day,' " said Ontario residents Casper and Sadie Revenant, who sell zombie gnomes. They look like regular garden gnomes, but much less cheery. You can find their work on Etsy under the seller name Revenant.
"We constantly have people coming to us with different ideas for future zombie gnomes, heads and various other things they think should be 'brought back to life,' " Casper Revenant said. "Our thinking is that the rise in popularity of zombie merchandise directly correlates with the rise of the undead in pop culture."
The recent zombie outbreak was spawned by a few big budget movies, Revenant said.
"Up until a couple of years ago, the zombie movie scene had went somewhat stagnant," he said. "Since then, the infection has spread to all other forms of media, such as television, comics, books, music, art, etc., and it's just taken off from there. The living dead have always been there, lurking in the shadows. They just needed to be pushed into the light to be recognized."
Seattle resident Doug Hudson began making zombie gnomes as a joke. You can find his work at zombiegnomes.net. "The popularity became so high, it just turned into a business," he said.
Hudson believes zombies are popular today because the "middle aged" generation grew up with George A. Romero zombie films, such as "Night of the Living Dead." Then came the remakes for today's generation. "Also, with the gaming industry utilizing zombies as a plot point with hits like "Resident Evil," everyone has been exposed to them," he said.
"Certainly, zombies are not just for Halloween anymore," he said. "Zombies are infectious, and just like the virus, it is spreading. The past few years, we have seen zombie walks and pub crawls in every major city. Plus horror conventions, some that are strictly zombie-themed, have occurred. Even membership groups that prepare for the zombie apocalypse have formed all across the country."
Texas resident Adrienne Williamson said she never thought of the zombie merchandise she sells at dreaminbohemian.com as Halloween items.
"Michael Jackson's 'Thriller' video was my first glimpse into the idea of them when I was a teen," she said. "I had never been into horror movies or anything either growing up or now. I don't know what it is about them at the moment, except fantasies about what the end of the world as we know it could be like? After all, it is 2012. I think people's imaginations get the best of them."
Williamson has been selling hand-painted zombie shoes on Etsy that she calls "Tombies."
"They are the first monster-type art I have ever painted, other than cutesy stuff," she said. "When a new customer contacted me about painting zombies on some TOMS for her because she is a fan of 'The Walking Dead' series, I really did hesitate. It's funny, people that I would have never in my wildest dreams thought were into zombies, are fascinated by them."
England resident CJ Holmes sells zombie-themed jewelery in the Etsy shop Playbox. Her most popular item is a My Zombie Plan charm bracelet that she can hardly keep in stock.
"Zombies are definitely not just for Halloween anymore," she said. "Do a Google search for 'zombie events,' and you will see what I mean — zombie survival experience days ... You can even hire a zombie-themed wedding planner!"
In addition to zombie movies, Holmes said "a special mention should also go to Max Brooks with his awesome 'Zombie Survival Guide' book, which even got non-zombie fans thinking about how they would prepare for a zombie apocalypse."
Miami resident Edward Bach, Etsy seller Sacchetto gets a lot of requests for a custom zombie wedding shoe called 'Till Death Do Us Part and Beyond." His zombie tote bag has also been a hit.
Arizona resident Robert Walker makes and sells everything from zombie shower curtains and aprons to zombie wallets, bedding and baby quilts at his Etsy shop Rw2 Gallery.
Walker says the trend is about survival.
"We all have 2012 on our minds, and even beyond that, most of us believe we are a glutinous nation built on over consumption," he said. "We can't survive at the rate we are on. We know it. And that's why we have plans about how to survive the apocalypse."