Cowboy Up: Western gear finds a home on the urban frontier
LaReeca Rucker:
The Clarion-Ledger
In many ways, Ridgeland resident Leigh Ann Harvey is your typical suburbanite. The accounting manager for the Ridgeland-based McAlister's Corp. loves power suits, pencil skirts and Blondie frappes from Cups.
But when she isn't city dwelling, Harvey, 38, heads to the country about 10 miles east of Canton to ride horses. She broke her first, a wild mustang, at 14 and now owns two that she trained to herd.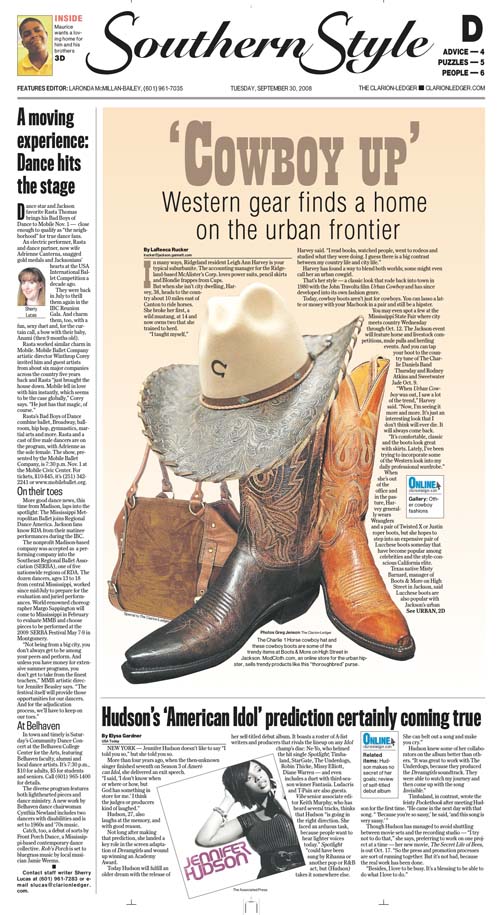 "I taught myself," Harvey said. "I read books, watched people, went to rodeos and studied what they were doing. I guess there is a big contrast between my country life and city life."
Harvey has found a way to blend both worlds; some might even call her an urban cowgirl. That's her style - a classic look that rode back into town in 1980 with the John Travolta film Urban Cowboy and has since developed into its own fashion genre.
Today, cowboy boots aren't just for cowboys. You can lasso a latte or mosey with your Macbook in a pair and still be a hipster. You may even spot a few at the Mississippi State Fair where city meets country Wednesday through Oct. 12.
The Jackson event will feature horse and livestock competitions, mule pulls and herding events. And you can tap your boot to the country tune of The Charlie Daniels Band Thursday and Rodney Atkins and Sweetwater Jade Oct. 9.
"When Urban Cowboy was out, I saw a lot of the trend," Harvey said. "Now, I'm seeing it more and more. It's just an interesting look that I don't think will ever die. It will always come back. It's comfortable, classic and the boots look great with skirts. Lately, I've been trying to incorporate some of the Western look into my daily professional wardrobe."
When she's out of the office and in the pasture, Harvey generally wears Wranglers and a pair of Twisted X or Justin roper boots, but she hopes to step into an expensive pair of Lucchese boots someday that have become popular among celebrities and the style-conscious California elite.
Texas native Misty Barnard, manager of Boots & More on High Street in Jackson, said Lucchese boots are also popular with Jackson's urban cowgirls. "They are a tan, vintage, goatskin boot of distressed worn leather," she said. "Celebrities wear them with skirts."
Fashion cowboy boots are more popular than ever, Barnard said, adding that Jessica Simpson's appearance in the 2005 film The Dukes of Hazzard and her video for the Nancy Sinatra-remake These Boots Are Made for Walkin' sparked a renewed interest in the style.
"(Simpson) really struck it home for the girls, and they started wearing them," she said. "Our sales really went up then, and it's still hanging on. Instead of shopping for the latest shoes, some people are asking what are the latest cowboy boots for fall. They're so hard to keep in stock around November or December."
Vintage-washed jeans and fitted Western shirts with snaps have also been big sellers, Barnard said. "It's more of a retro look for younger guys," she said, "like they just went to a vintage store and bought them."
Canton resident Luke Pitzrick worked on a 25,000-acre Wyoming ranch from 2003-2004 herding and feeding cattle. "In the winter, you'd go by their water tanks and break the ice because it could freeze six inches thick," he said. "I rounded up the cows and brought them into the corrals so you could castrate them. It was the real deal up there."
Today, Pitzrick, 28, is a Mississippi College English major who enjoys reading Charles Dickens and studying the philosophy and theology of St. Augustine. He's an urban, or erudite, cowboy who prefers boots over sneakers.
"I don't know if I consider myself a Western wear person or not," he said. "I don't wear a cowboy hat or anything. I've seen a lot of guys you'd call 'preppy' wearing cowboy-style boots on campus. They'll wear a polo shirt with regular blue jeans and boots."
When she isn't checking her messages on Facebook, Clinton native Caralee Pitts, 21, puts on her cowgirl boots and rides into class at MSU, where she's studying elementary education.
"Cowboy boots are really popular here," she said. "When I go to football games, a lot of girls wear them with their dresses. You think you would wear them with a solid color dress, but I've seen them wear them with flowery dresses."
Harvey likes her cowboy boots, but she's also a fan of the more sophisticated English riding look. Knee boots went mainstream several years ago and remain popular this fall. Harvey frequently turns to Ralph Lauren to build her wardrobe, but riding boots and Western wear have galloped into other designer collections and stores this season, such as Gucci, Via Spiga, Henry Beguelin and Cesare Paciotti. Nine West is also promoting the Western look with cowboy-style hats and fringed accessories.
In the next few years, Harvey plans to trade her suburban life for a quiet existence in Farmhaven where she'll build a house and teach riding lessons. "The animals are extremely majestic and really intelligent," she said, explaining her love of riding. "You form a bond with the animal, and it lasts forever. It's the best stress reliever out there."
That pair of Lucchese boots may also be in her future. Your boots make a statement," she said.