Jackson ministry helps young girls develop a postive DIVAA attitude
LaReeca Rucker
The Clarion-Ledger
The word "diva" is often used to describe someone larger than life, demanding and self-centered, but the DIVAAS at Jackson's Anderson United Methodist Church believe it's better to be humble and giving.
DIVAAS, an acronym for Developing and Inspiring Virtue in the African-American Sisterhood, is a ministry Senatobia native Kashelia Harrion created. It is designed to help meet the social, spiritual and academic needs of African-American girls recruited to the program in grades 7-9.
"Girls today need to know that Beyonce is not a role model," Harrion said. "I know many would disagree because she's wealthy and has achieved success, but when I say Beyonce, I mean our oversexualized, materialistic culture. That is not the way you should live your life or what you should strive to be."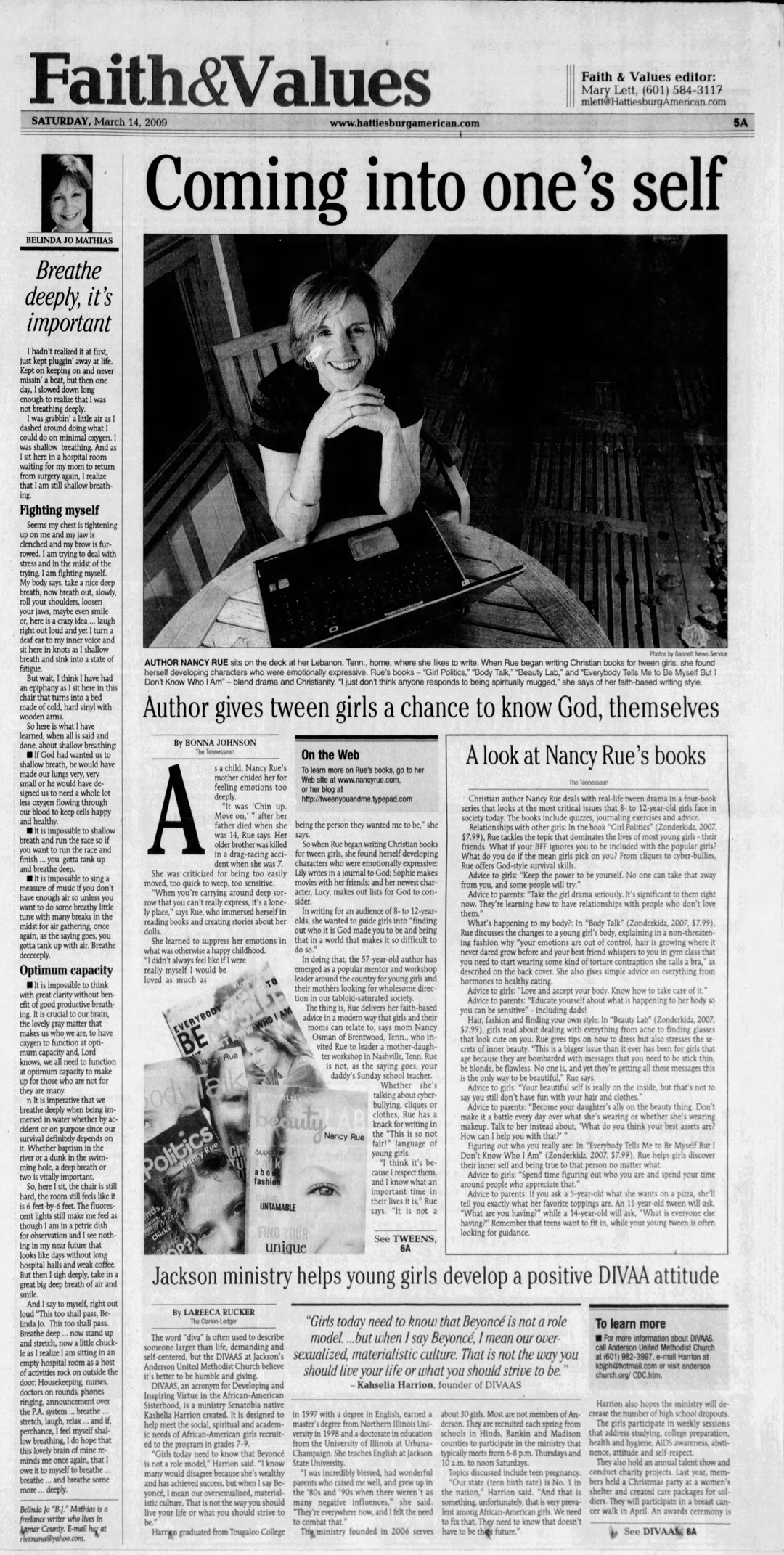 Harrion graduated from Tougaloo College in 1997 with a degree in English, earned a master's degree from Northern Illinois University in 1998 and a doctorate in education from the University of Illinois at Urbana-Champaign. She teaches English at Jackson State University.
"I was incredibly blessed, had wonderful parents who raised me well, and grew up in the '80s and '90s when there weren't as many negative influences," she said. "They're everywhere now, and I felt the need to combat that."
The ministry founded in 2006 serves about 30 girls. Most are not members of Anderson. They are recruited each spring from schools in Hinds, Rankin and Madison counties to participate in the ministry that typically meets from 6-8 p.m. Thursdays and 10 a.m. to noon Saturdays.
Topics discussed include teen pregnancy. "Our state (teen birthrate) is No. 1 in the nation," Harrion said. "And that is something, unfortunately, that is very prevalent among African-American girls. We need to fix that. They need to know that doesn't have to be their future."
Harrion also hopes the ministry will decrease the number of high school dropouts.

The girls participate in weekly sessions that address studying, college preparation, health and hygiene, AIDS awareness, abstinence, attitude and self-respect. They also hold an annual talent show and conduct charity projects.
Last year, members held a Christmas party at a women's shelter and created care packages for soldiers. They will participate in a breast cancer walk in April. An awards ceremony is held each May for the girls.
Christy McGowan, 14, has been "a part of DIVAAS since seventh grade and now serves as group president. "When I first started, I was kind of quiet," she said. "It opened me up, and I met a lot of new people. It's like we're all family now."
Through DIVAAS, she's learned to better communicate with her parents and improve her etiquette skills. "They talk to you about things like dating, relationships, studying," she said.
Jackson resident Breanna Young, 13, one of the youngest members, said she likes the camaraderie. "We talk about things going on at school and peer pressure."

Her mother, Daphne Young, said Breanna had difficulties adjusting to junior high, but since joining DIVAAS, her grades have improved.
"I can tell that she is maturing a little more each day," she said. "She's opened up a little more to me about things that are going on, and even if she doesn't talk to me, I know there is someone she can talk to."
Brandon resident Angela Bryant, 22, is a DIVAAS mentor. Harrion recruited the Tougaloo College elementary education student two years ago to help with the program. "We have seen tremendous change in some of the girls," she said.
Ridgeland resident Traci Brent, who became a DIVAAS mentor three years ago, said the meeting frequently "gives the girls an opportunity to ask questions and bond with us so they'll feel comfortable talking to us."
Harrion said the church plans to offer a ministry for African-American boys this summer.
"What we really want young people to know is the stereotypes and myths that are out there in society about them don't have to be true," she said. "We want them to know that God loves them and has something wonderful in store for them, but they have to do something to receive those blessings."