Fans rave about 'Downton Abbey': Mississippi fans never disappointed with MPB show
LaReeca Rucker:
The Clarion-Ledger
In the first season of "Downton Abbey," it was clear that times were changing.
The year was 1914, and the aristocratic Crawley family had just received news that someone they knew had drowned in the RMS Titanic disaster. An inheritance crises threatened the family and their estate, but perhaps the most shocking scene of the season was when the youngest daughter — the liberal and politically-minded, Lady Sybil, who was eight years away from seeing women get the right to vote — confidently descended the staircase wearing a custom-made garment with a flowing split skirt or (or dare we say — pants) symbolizing a change in society mores of the early 20th century.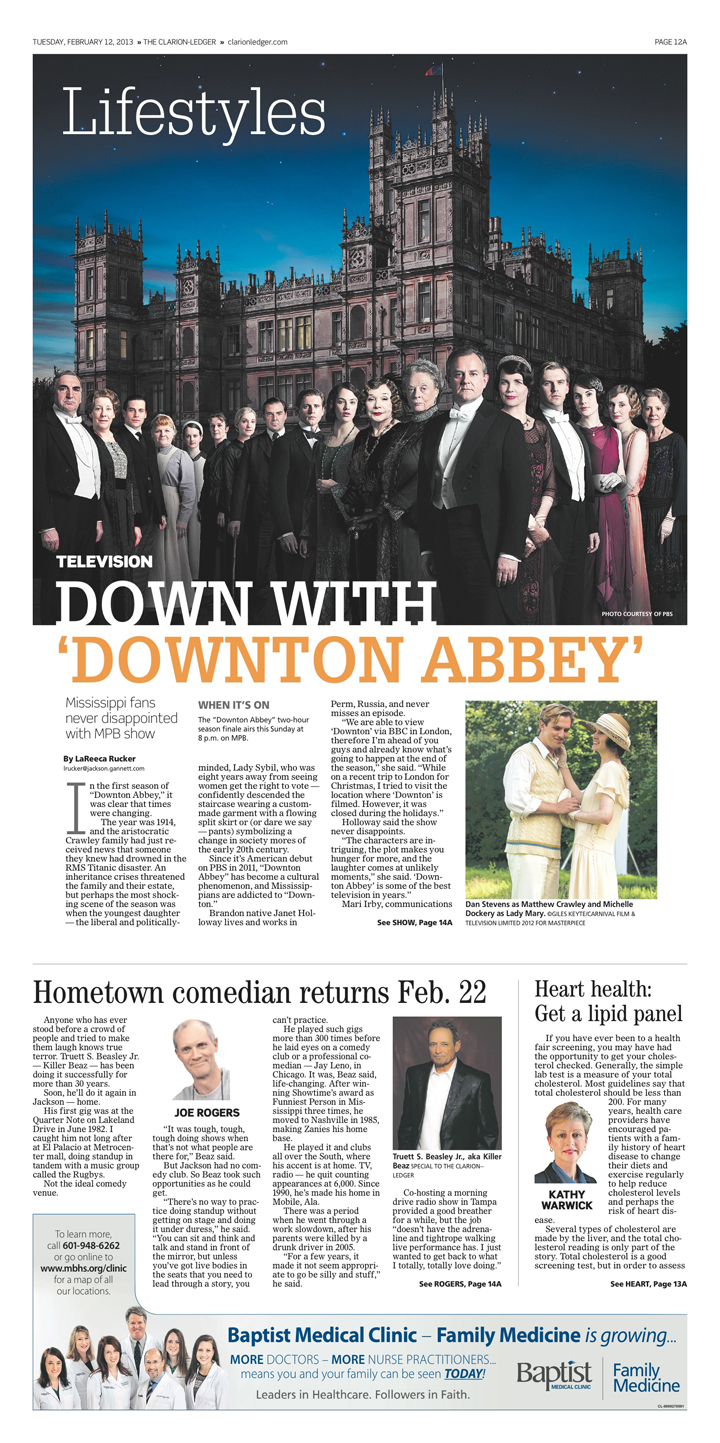 Since it's American debut on PBS in 2011, "Downton Abbey" has become a cultural phenomenon, and Mississippians are addicted to "Downton."
Brandon native Janet Holloway lives and works in Perm, Russia, and never misses an episode.
"We are able to view 'Downton' via BBC in London, therefore I'm ahead of you guys and already know what's going to happen at the end of the season," she said. "While on a recent trip to London for Christmas, I tried to visit the location where 'Downton' is filmed. However, it was closed during the holidays."
Holloway said the show never disappoints.
"The characters are intriguing, the plot makes you hunger for more, and the laughter comes at unlikely moments," she said. 'Downton Abbey' is some of the best television in years."
Mari Irby, communications director for Mississippi Public Broadcasting, said the show appeals to people of all backgrounds.
"It has been absolutely wonderful how it appeals to people's imaginations and interests totally across the board," she said. "We saw that in the three 'Downton Abbey' events MPB hosted across the state."
Preview events were held in Oxford, Jackson and Ocean Springs before the third season began.
"We got fantastic response," she said. "We had people coming in from other towns. It was so much fun to watch the people interact with each other. People came dressed in 'Downton Abbey' fashions for the event. In Oxford, we had a grandmother, mother and daughter who all came dressed in 1920s fashion."
The two-hour season finale airs at 8 p.m. this Sunday on MPB.
Irby said Season 4 is in the works.
Clinton resident Megan M. Chapman is also down with "Downton."
"I do watch religiously," she said. "I had several people recommend the show to me after the first season, so I roped my husband in and started a marathon to catch up in time to be ready for Season 2. That is all it took. Sunday nights are 'Downton Abbey' night in our house."
Chapman, a history instructor with the Department of History and Political Science at Mississippi College, said this is her favorite period in British history.
"It's so fascinating to see it come to life right before me every week," she said. "Of course, the incredible actors that make you fall in love with the characters — even those you hate — and the fantastic writing are great bonuses.
"Also, as a history instructor, I appreciate the massive amount of attention the cast and crew put into attention to detail and accuracy," she said.
South Jackson resident Jessica Younger said she loves everything about the show. "To me, it's an escape of sorts, but I think its popularity is partly due to the fact that they deal with a lot of the same problems we do," she said. "They just do it in prettier clothes. I think the fashion is beautiful to look at, but I sure wouldn't want to wear a corset.
"The really funny thing is that my husband is just as hooked as I am. Of course, since I have to sit through numerous episodes of 'Storage Wars,' he really wouldn't be able to say anything about my one-hour addiction on Sunday night."
The Youngers just ordered seasons 1, 2 and 3 on DVD.
"Now, the dilemma — do I watch Season 3 one episode at a time on Sundays, or do I tear open the DVD and find out what happens? I guess that will be determined by the storyline. If I can't stand the suspense, I'll resort to the DVD," Younger said.
How to do it 'Downton Abbey' style
The PBS show "Downton Abbey" has become a nationwide hit, and Mississippi style experts say it's influencing trends and fashion. We asked local hair and trend expert David Creel, of the Ridgeland salon Beautiful With David, to tell us how he defines "Downton Abbey" style.
Q. When did you first become familiar with this show? Do you watch it now? What do you like about it?
A. Not only do I watch it, I am addicted to it! I almost cried when Lady Sybil died, and I agree with Lady Cora that her father was at least partly to blame.
When I was younger, the women in my family talked about "Days of Our Lives" like the characters were real people, and I made fun of them. Now I do the same thing with "Downton." I anticipated its coming with excitement and have watched it from the beginning, and I can't imagine what it would take to get me away from the television on Sunday nights now.
Q. For those who have never seen it, how would you describe it?
A. It started in the late Victorian and Edwardian England prior to World War I and is now moving into what we called, in this country, "The Roaring Twenties," the time when the divide of the Atlantic Ocean became less of a barrier for rapid exchanges between the continents. European women started to want everything American, and American women wanted everything European.
It is a heartfelt, deftly acted tour de force that portrays the relationships between and among the aristocratic Earl of Grantham and his family and the servants who have their own lives in the shadows. It is about a family holding onto the past while trying to come into the present in a social environment that is changing almost hourly right before their eyes.
Q. Do you think that the show is influencing fashion and hair?
A. It is on the pulse of trends in fashion, hair and makeup that were already coming back onto the runways and among the Hollywood crowd but that mostly had not yet made their way into everyday life. "Downton" has helped to convince carpool moms, grandmothers and a wide array of women who don't live in castles that glamour is not beyond their grasp and not more than they should want for themselves.
Q. What trends you are seeing coming from this show?
A. Finger waves, pin curls, deep sideswept bangs, ornate hair accessories, elaborate hair dressing at its best — that is "Downton Abbey," and it is also on the pages of Vogue, Elle and Marie Claire. Hair dressing as a form of art, rather than a quick 15-minute blowdry, has made a resurgence, and I say, "Hoorah!"
As for fashion, both couture and ready-to-wear collections are heavily embellished, and just enough skin to draw attention without provoking scandal is peeking through delicate lace fabrics.
The "Downton" fashions are more modest by today's standards, as was appropriate for that time, but those "vulgar Americans," as Dame Maggie Smith would call us as she portrays the Dowager Countess of Grantham, brought what was a hint of devil-may-care into the more proper English fashions of the early and mid-1900s.
Now, the influence is moving in the other direction as "Downton" is bringing hints of lace and brocade into carpool lines and elegant evening affairs right here at home.
Q. What are some of the things that people might have at home in their closet or jewelry boxes that they can pull out to create this style?
A. One tip for today's women wanting to invoke the "Downton" style would be to go to your mother's or grandmother's jewelry box. Break out those vintage treasures that granny left you, but that you have never been brave enough to wear — decadent broaches with larger-than-life jewels and feathers and more modest cameos adding romance.
Barrettes that would have been "too much" only a couple of years ago are just enough now. As the Dowager Countess says, it can all be summed up in one line: "Nothing succeeds like excess."
Q. What would you suggest buying to create this style?
A. If you don't have it in your jewelry box at home, perhaps it's time to visit the local thrift stores and vintage shops. Some of my favorites hair baubles were discovered in the French Quarter and rediscovered peeking from the side of a bang or bun.
Q. What are some of the hairstyles people are wearing inspired by this show? Can you describe some of them?
A. Screen Actors Guild awards that were intricately styled — dramatic side parts and polished waves cascading over one shoulder, updos with a vintage flare different than last season's deliberately undone ones we have seen in recent years, and, of course, the finger wave is all the rage. It truly is your grandmother's hair reinvented and modernized with the attitude of a 21st century woman.
Q. Why do you think people like this show so much, and why are they adopting trends from it?
A. I like the show so much because it takes me to a time and place where I never will be in "real life" but which I think I would so much have enjoyed. It invites me to "play dress up" even if it's just in my mind and even if it's just for an hour, and it reminds me that good manners and civility really were once the norm, not the exception. That's why I enjoy it. I can only imagine that might be part of why others enjoy it and why it has so quickly become a cultural influence.
Q. Have you seen anything in stores that looks like it was inspired by the show? Have you seen anyone wearing hairstyles that look "Downton Abbey"-inspired? Have women come to your salon requesting something similar?
A. Contemporary women who aren't a royal princess or a movie star, and who have to go to work or make dinner for the family, aren't coming in requesting bejeweled chignons, but brides are definitely adopting some of the softer "Downton" looks and asking for them. And I do get requests for special occasion hair from time to time. It was especially busy during the holidays with women wanting to dress up their everyday looks for elegant evening affairs.
I do see clothes on the racks right here in Jackson that have a distinct "Downton" look, mostly in the eveningwear lines, but even subtle influences in the tailoring and accessorizing of daytime looks as well. Pencil skirts, riding jackets, hats and even the face has a "Downton" throwback. Deep hues on the lips, pale porcelain skin and meticulous eyebrows defined the '20s era and today.
Q. How do you think "Downton Abbey" style contrasts with modern style?
A. "Downton" style was more predictable and universal. If you were a woman, or even a man for that matter, of a certain social status, you were expected to conform to one mode of dress. If you were of a different social status, you were expected to conform to another mode of dress, and that goes for hair as well. There were, of course, a few society women who went their own way even in the "Downton" days, but for the most part, they stayed true to what was expected.
Women today are much more liberated, and rightly so, to dress in whatever manner they find to be right for them, and I think that's the main contrast. Today, within five minutes in a store or restaurant, you will see a conservatively dressed matron, a flashy siren and a college student who is wearing deliberately torn jeans.