The evolution of the sock monkey: New generation of kids discovering the toy
LaReeca Rucker
The Clarion-Ledger
Their populations have evolved over the course of generations through a process of natural selection and creativity.
There are about 260 known living species of monkey, and one is called sock.
They emerged in the Victorian era, and The Nelson Knitting Co. spurred a sock monkey explosion in 1932 by adding a red heel to its product.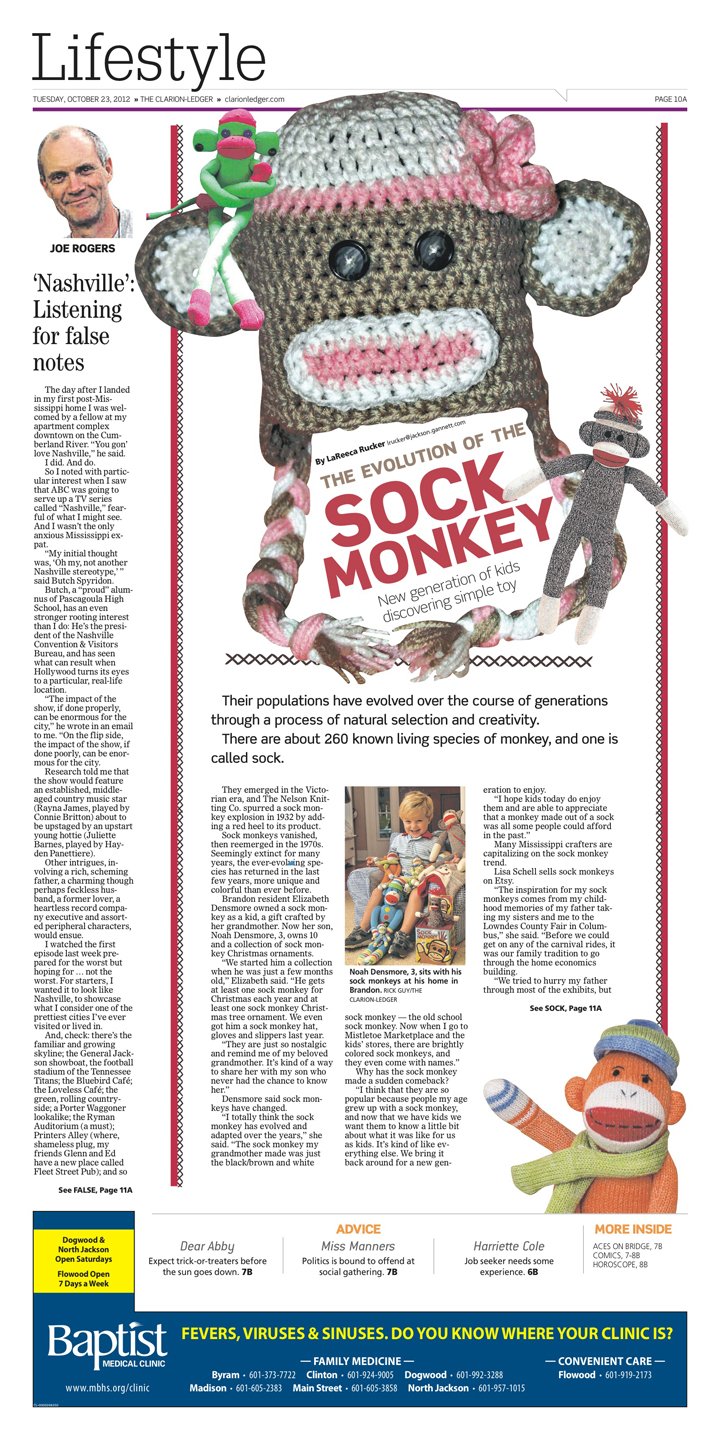 Sock monkeys vanished, then reemerged in the 1970s. Seemingly extinct for many years, the ever-evolving species has returned in the last few years, more unique and colorful than ever before.
Brandon resident Elizabeth Densmore owned a sock monkey as a kid, a gift crafted by her grandmother. Now her son, Noah Densmore, 3, owns 10 and a collection of sock monkey Christmas ornaments.
"We started him a collection when he was just a few months old," Elizabeth said. "He gets at least one sock monkey for Christmas each year and at least one sock monkey Christmas tree ornament. We even got him a sock monkey hat, gloves and slippers last year.
"They are just so nostalgic and remind me of my beloved grandmother. It's kind of a way to share her with my son who never had the chance to know her."
Densmore said sock monkeys have changed.
"I totally think the sock monkey has evolved and adapted over the years," she said. "The sock monkey my grandmother made was just the black/brown and white sock monkey — the old school sock monkey. Now when I go to Mistletoe Marketplace and the kids' stores, there are brightly colored sock monkeys, and they even come with names."
Why has the sock monkey made a sudden comeback?
"I think that they are so popular because people my age grew up with a sock monkey, and now that we have kids we want them to know a little bit about what it was like for us as kids. It's kind of like everything else. We bring it back around for a new generation to enjoy.
"I hope kids today do enjoy them and are able to appreciate that a monkey made out of a sock was all some people could afford in the past."
Many Mississippi crafters are capitalizing on the sock monkey trend.
Lisa Schell sells sock monkeys on Etsy.
"The inspiration for my sock monkeys comes from my childhood memories of my father taking my sisters and me to the Lowndes County Fair in Columbus," she said. "Before we could get on any of the carnival rides, it was our family tradition to go through the home economics building.
"We tried to hurry my father through most of the exhibits, but we always stopped reverently and stared longingly at the sock monkey that was on display."
Pass Christian resident Ashley Ladner makes sock monkey hats for children and sells them on Etsy under the username KutiePieCreations.
"I thought it was so cute that I needed to make one for my daughter," she said, "and it was so popular I had others asking me to make them one, too."
Columbia resident Kayla Sistrunk-Young sells sock monkey hats on Etsy in her store: Bows, Hats and More.
"They are putting the sock monkey image on everything now," she said. "It's on clothes, bedding, hats and even dog clothes."
Marshall County resident Amanda Kirk crafts items with sock monkey motifs and sells them on Etsy under the username Mandyscraftycorner.
"I think that as the time goes on, styles and toys of the past are starting to come back," she said, "and are being changed a little bit to have a more modern flare to them."
That's exactly what Tupelo native Courtney Cheek is doing. She crafts sock monkeys with a unique twist, using thread and colorful fabrics to engineer their evolution.
"They started out as cave-dwelling, hunter-gatherers, generally living in small nomadic groups known as band societies," she joked, describing her "modern, hip" creations that come in different sizes and colors. "Then apples were invented. Now they use iPads."
The toys are reminders of a simpler time, she said.
"They don't require batteries. They are nice, simple toys that allow kids, as well as adults, to keep an active imagination, and they are huggable.
"They seem to take on a life of their own when they are done. No two are alike and the same can be said for humans. We try to give each toy a different story, background and personality. It makes them more real, and I think that's one of the reasons people are drawn to our shop."
Her sister, Christina Cheek, sells them on her Etsy site under the username Kissiana. She said they have been popular items.
"In fact, I sold one, not too long ago to a customer in London," she said.
"That sock monkey went on a long trip."